The Future Of Animation In A Post COVID World
We know, we know, talk of the 'new normal' feels a bit like Marmite at the moment. But businesses around the world are rapidly playing catch up and desperately trying to stay on top of industry trends in a scene that looks like a terrified dog trying to stay on a surfboard.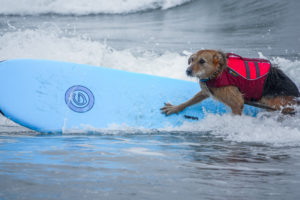 While businesses and organisations are living through this tumultuous period of change, we wanted to explore just what opportunities are out there at the moment and how animation can help be a solution to those problems. Below we have put our thinking caps on and explored opportunities for animation in a post-COVID world!
Remote Events
Undoubtedly one of the hardest hit sectors by COVID is the events sector. Wonderful event and conferences centres like our home at the Business Design Centre have been empty since March and event organisers are experiencing severe headaches when looking at creative ways  for rescheduling events.  But while the industry desperately looks for clarity, some organisers are taking an innovative approach in the form of 'online events'. 
Online events are a new concept and their success remains to be seen as to how organisers can replicate a true 'event experience' in an online setting. This is where the prospect of animation arises.
Just before COVID hit, our team was busy developing an exciting concept aimed at the events industry called an Event Highlight Video. The concept was to animate a key talk or content piece that could be used after the event as a 'highlight' video for those unable to attend or just wanting to refresh their memory of key messaging. With COVID on the warpath, our 'event highlight video' may need a new name but it certainly proposes a unique solution.
In the example above you can see how the power of animation captures the viewer's attention and demonstrates key points and concepts that are being conveyed in a digestible manner. As virtual events unfold we certainly believe that animation will play a big role in helping make the experience for attendees more captivating and attention grabbing.
2. The Great Pharma Race
As the world waits for a solution to COVID, pharmaceutical teams and companies from across the globe race to create a practical solution in the form of a treatment or vaccine. We can all acknowledge the incredible knowledge and level of detail that it takes to produce such a solution but for many of us trying to understand protein cells, the R number and cellular immunity can be a bit overwhelming.
As a result we envisage more and more medical and pharmaceutical companies turning to pharmaceutical animation in an attempt to help better explain their advancements in technology and medicine. 
In the example below we worked with Devyser who are experts in diagnostic kits concerning complex DNA testing within oncology, reproductive health and hereditary diseases. The challenge for us was to convey a complex message in a clear and concise format that was easy to understand for all audiences. Let us know what you think?
3. Taking Education Online
With schools closed until at least June, children from across the United Kingdom have been confined to home learning. For some the experience may have been positive, while for others it may have been a mish mash of lesson plans stashed together between work calls whilst desperately trying to keep your children away from their PlayStation. 
With such challenges at play, it further illustrates how animation in education can really help in the learning process. For example, 90% of information transmitted by the brain is visual, and visuals are processed 60,000 times faster than text. So next time you are having trouble explaining a complex algebra problem or are struggling to bring the Battle of Hastings to life, let the power of animation tell that story for you in an engaging and captivating way.
As education evolves and the concept of a virtual classroom becomes more and more accepted, we're excited by the potential animation has to enrich this experience.
How Can You Use Animation?
With the world experiencing an unprecedented situation we are continually looking at how we can support charities, businesses and organisations across the globe. As marketing and communication methods evolve we are here to work with you on how you can best tell your story and communicate effectively with your target audience. To talk about video marketing and ways you can make a difference, get in touch! We're here to help and look forward to hearing your ideas and more about your message.
Call us on 0207 288 6319 or email us at wecanhelp@theanimationguys.com
Error: Contact form not found.