An animated advert is one of the most memorable forms of advertising. It's a vehicle for brands to build a strong presence and establish their key messages both quickly and effectively. Just stop and think, how many household brands have used the power of an animated advert to stick in your memory? There's sure to be quite a few!
But what is it about an animated advert that makes it so memorable? What is the secret to creating an effective animated advert? To help answer these questions we've put together a list of 4 key factors that contribute towards making a successful animated advert.
Consider Using An Animated Character
When we told you to think of as many brands as you could that have used animated adverts, how many of those involved an animated character? We bet it was quite a few! Animated characters are commonplace in animated adverts as they add depth and strike a chord with your audience. Viewers are more likely to remember an animated character due to their personal characteristics. Whether it's laughter, sympathy, warmth or even shock – an animated character is sure to elicit a response from your audience.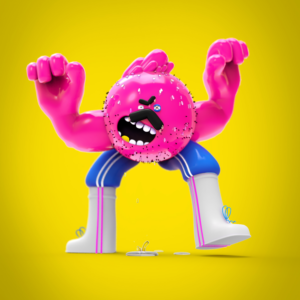 2. Choose the right Animated Style
When strategising over your adverts messaging and what you want to achieve, consider which style is the best fit for your desired outcome. From differentiating between 2D & 3D animation to delving into infographic animations or cartoon animation, choosing the right animation style is imperative to making sure your animated advert is as effective as possible.
3. Get the Voiceover Just Right
While the on-screen animation is wowing your audience, don't do it a disservice by including an amateur or poor voiceover. A strong voiceover for your video helps transition the audience to and from key messages and helps retain the audience's attention span as you showcase your advert. A clear and eloquent voiceover helps hit home your adverts by emphasising the right words and intonation where appropriate. This is illustrated the example below.
4. Use Unique Statistics
A nerdy one to finish this guide off… One way you can look to capture your audience's attention is through using unique statistics. Research has shown that using more numbers such as 99.89% rather than 99% or 8.7/10 rather than 9/10 tends to generate more trust as people deem it to be more realistic. People love stats, so if it's appropriate, make sure to include some! 
If you get your animated advert right it has the power to wow your audience and stick in the mind in a way other forms of advertising cannot. Take on-board our advice and there's no doubt you'll create a winning animated advert!
When it comes to animation, anything is possible! If you have a tricky objective or business challenge and would like to explore using animation to solve it, get in touch. You can browse our portfolio of animated TV adverts and other video styles . Or call us on 0207 2886 319 for a chat.